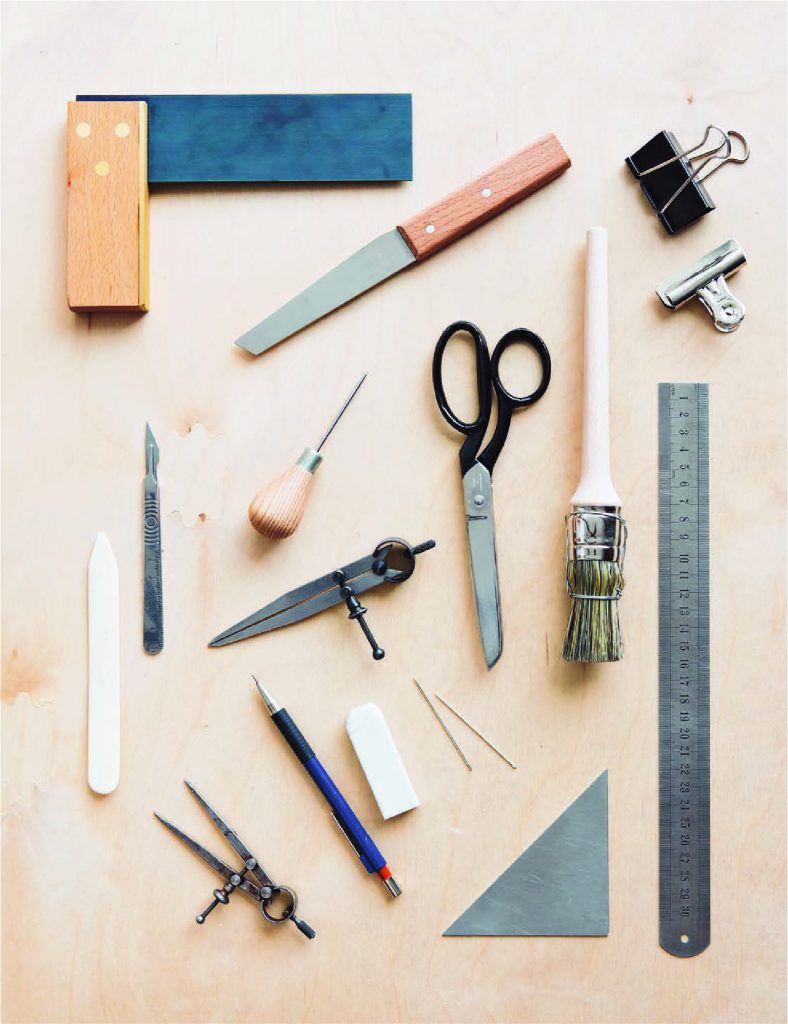 When making your own books and publications, and other works from papers, it is worthwhile to collect a range of tools and materials for your own personal use. I use my tools every day, and over the years they've paid for themselves many times over.
Tools and Materials from the LCBA Shop
MA Book Design students receive 10% discount on books, tools and materials from the LCBA online shop. Use the code RDGMABKD at checkout.
Here is a run-down of the tools we use at the studio, and what they're used for.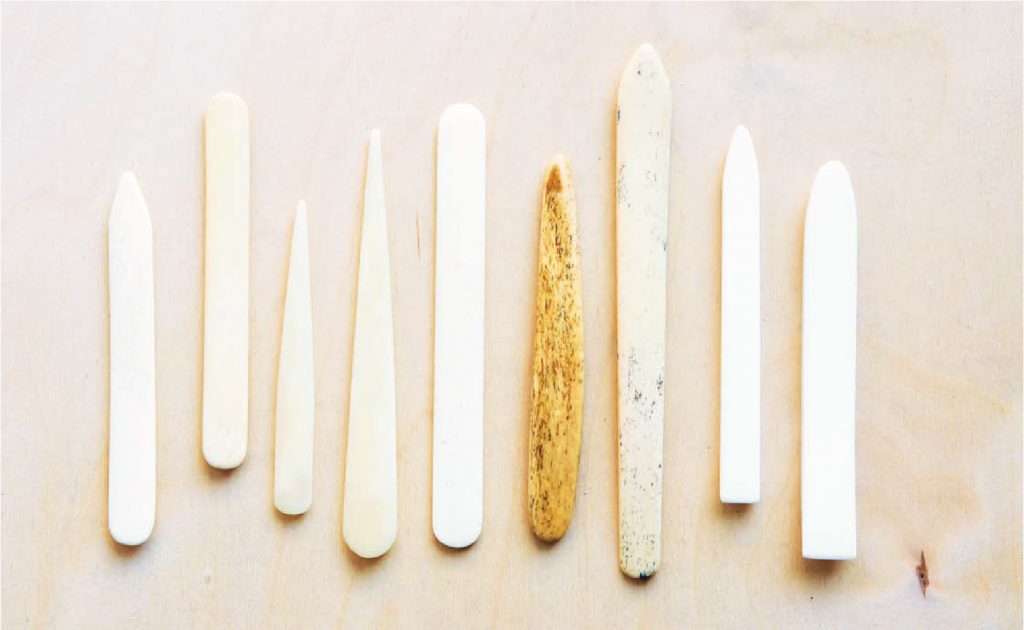 Bone folder
A long and thin tool usually made of cow bone, used for folding and scoring paper. A typical bone folder will be pointed and thinner at one end. I tend to use a bone folder that is 15cm (6in) long and pointed on one end. Most bookbinders will have an assortment of shapes and sizes for different projects. Folders are also available in other materials, including Teflon/PTFE and bamboo.
Awl, bodkin and pin vice
An awl or bodkin is a tool comprised of a handle attached to a needle-like shaft, used to make sewing holes in paper or board. The common bookbinders awl (top left) has a round wooden handle and a 5.75cm (2¼in) needle. A pin vice is an awl-like tool with a handle and chuck into which you can attach interchangeable drill bits, needles or pins.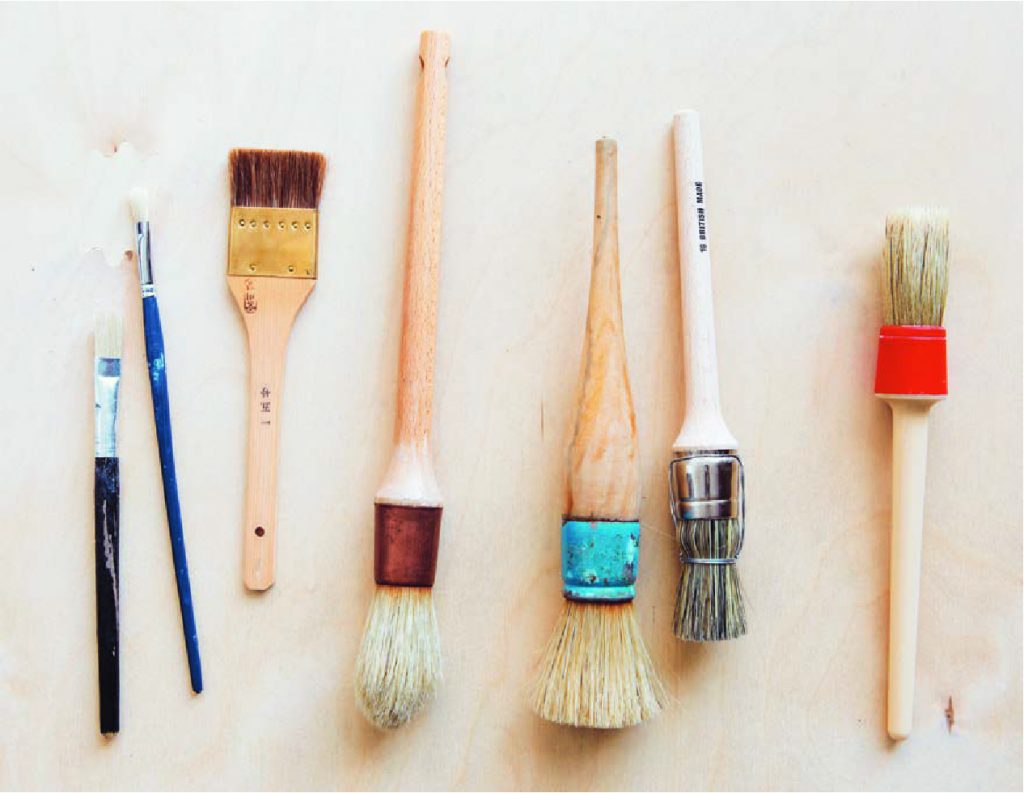 Brush
Brushes are used to apply glue or paste. You would ideally have a selection of brushes of different sizes and materials depending on your project. Typically I would use a hog-bristle bridled (bound round with wire) brush with a 3cm (1¼in) diameter and 15cm (6in) long wooden handle. If your brush has metal bridling or ferrule (the band that attaches the brush to the handle), it will discolour or rust over time, so it's important to keep your brushes rinsed and dried after use.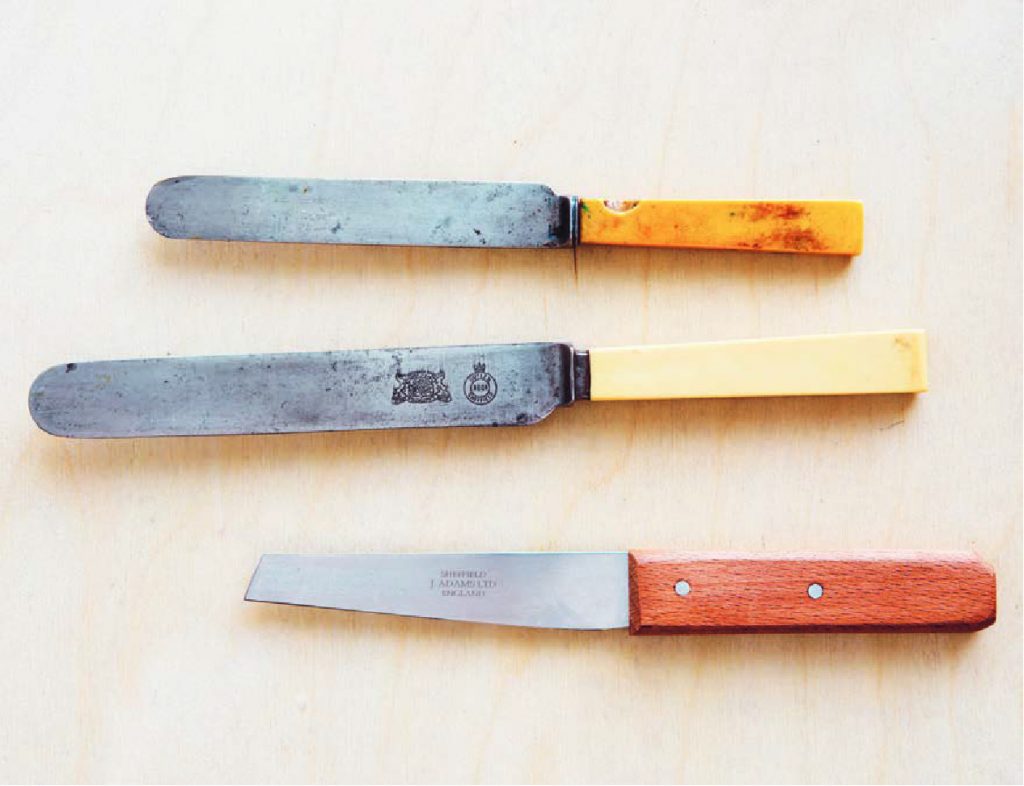 Clipt-point shoe knife
Most commonly used by cobblers, the clipt-point shoe knife (bottom) is used by bookbinders for slitting paper. A handy, general-purpose knife for any studio – I use mine every single day. If you have ine, an old butter knife works well (top).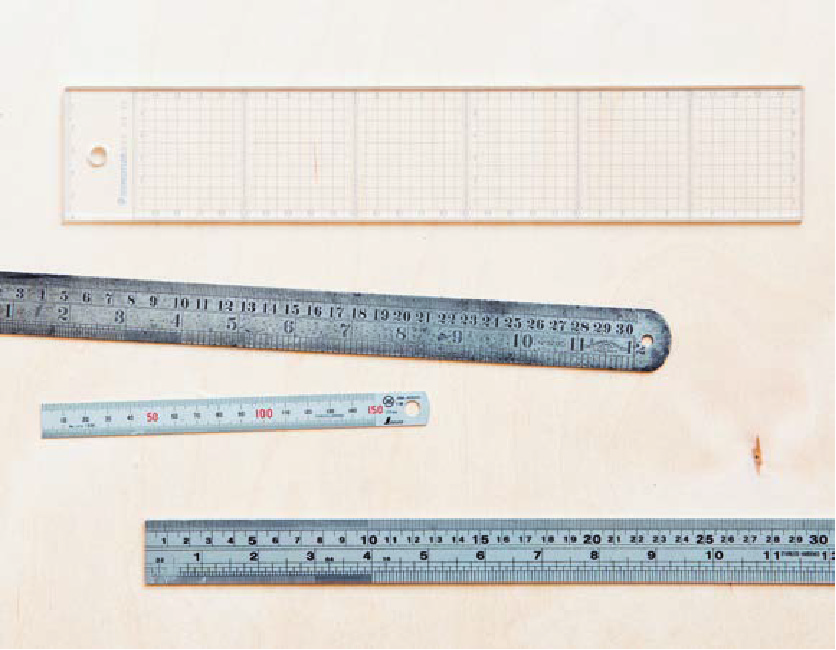 Rule
Used for measuring and marking. I would recommend having at least two steel rules: one short (30cm/ 12in), one long (60cm/24in); and, if possible, one clear gridded rule. Make sure to find relatively heavy rules to reduce the likelihood
of slipping. I have a lovely stainless steel rule made in Japan, which has really clear markings and a nice edge.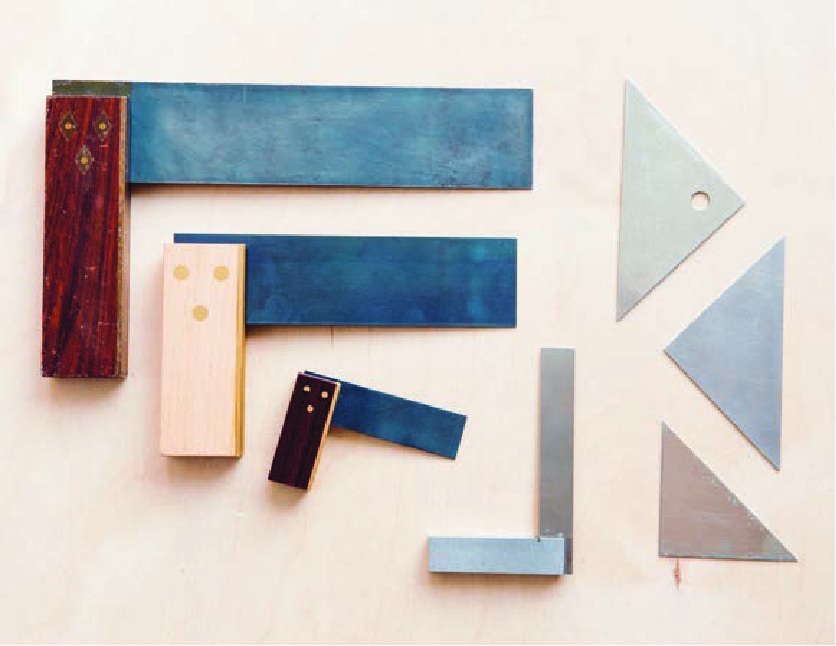 Engineer's square and try square
A tool used to mark and measure the accuracy of a right angle. Both the handle and blade of an engineer's square is made of steel, whereas the handle of the try square is made of wood.
Set square, or metal triangle
Steel or plastic set squares or metal triangles are used to mark and measure the accuracy of a 90- or 45-degree angle.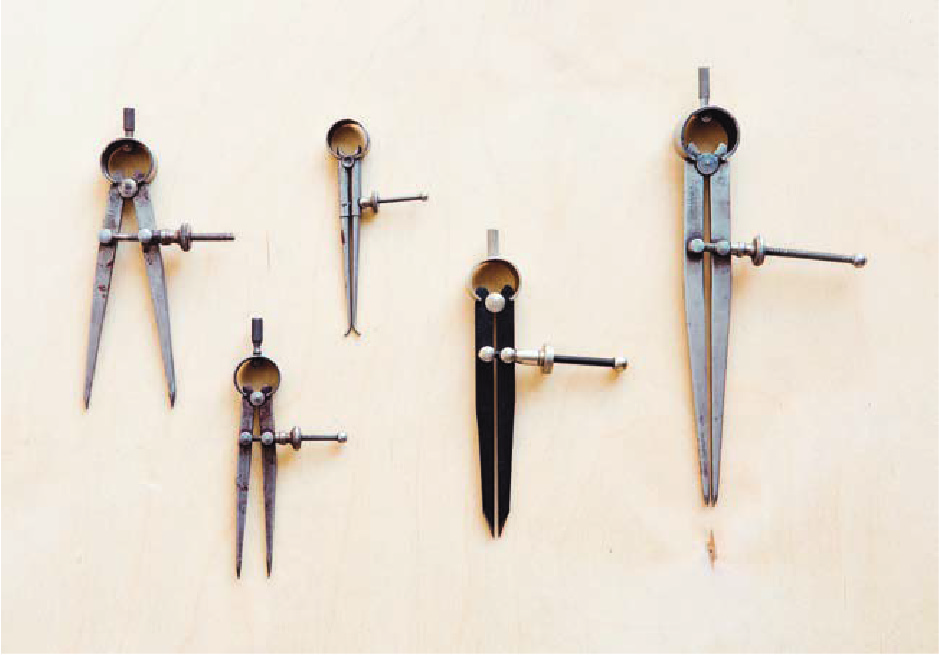 Spring divider
An engineering tool used in bookbinding to accurately measure and mark repetitive lengths. A 10cm (4in) divider is a good, all-purpose size to have.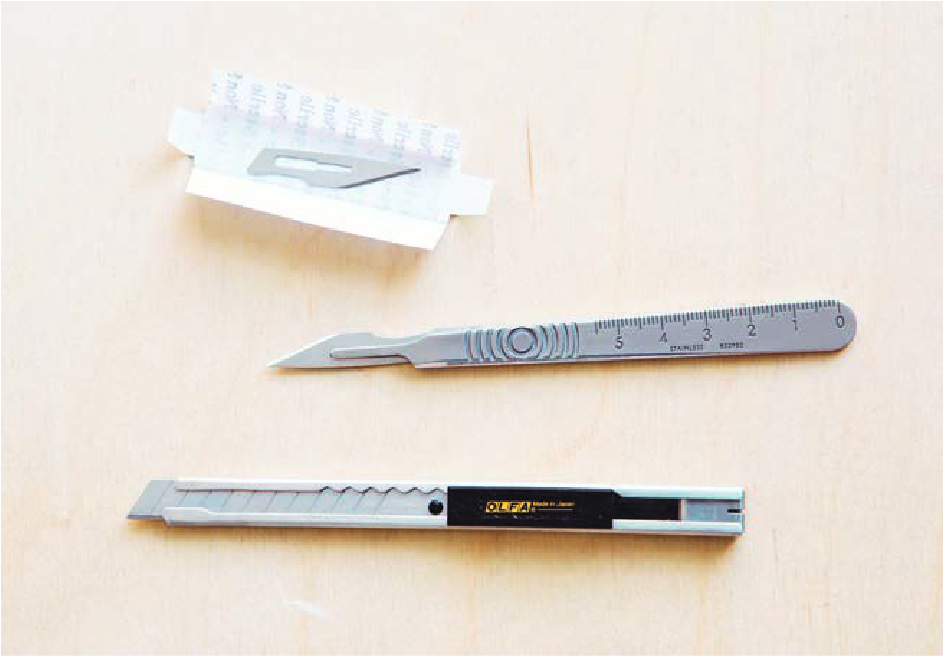 Scalpel
A tool made up of a handle and interchangeable blade used for fine cutting. There is a wide variety of blade shapes and sizes. My most commonly used scalpel is a Swann Morton no.3 handle with 10A blade. Alternatively, you should find a scalpel or craft knife that is easy to handle, cuts with precision, and has replaceable blades. Please, don't use a plastic handled knife–they're rubbish.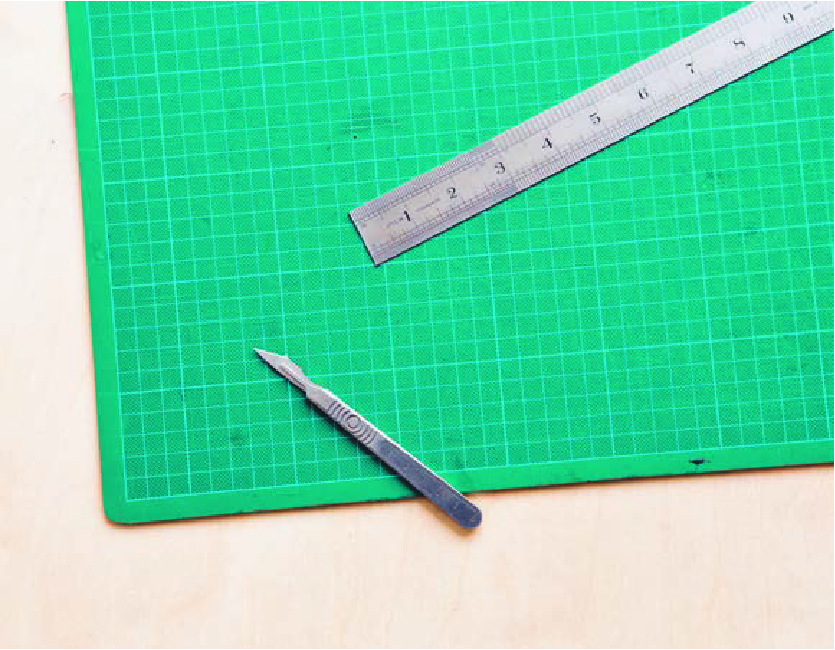 Cutting mat
A perfect surface for cutting onto using a scalpel or sharp blade, these mats are self-healing and most have a grid, which can come in handy. Use a cutting mat that is much larger than the book you are working on; A3 or A2 is a good size.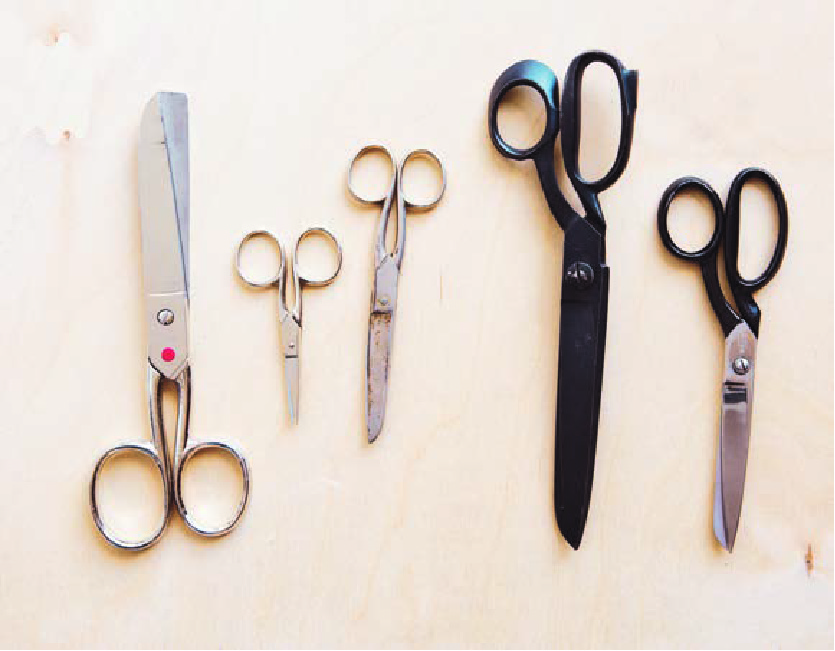 Scissors and shears
In the bindery, scissors or shears are typically used for cutting thread, cloth, and paper. It's nice but not necessary to have a range of sizes and styles.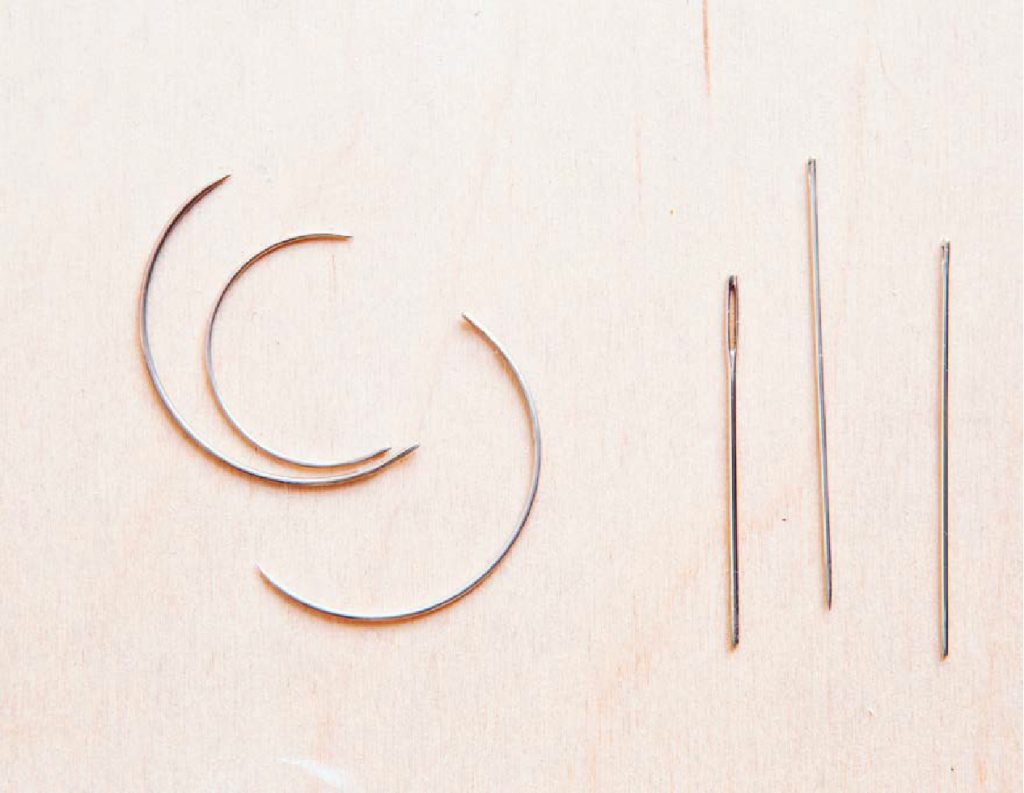 Needles
Once you create the sewing holes with an awl, needles are then used to sew the paper together to make a section. The sections are sewn together to create two-section or multi-section book bindings. The most commonly used in our bindery is the number 18 bookbinding and saddlers' harness needles. Both types of needles are an ideal size for use with linen thread, with a polished eye to prevent thread from breaking. Saddlers' harness needles have a blunt tip that prevents accidental piercing when sewing sections. Alternatively, you can use a darning or beading needle.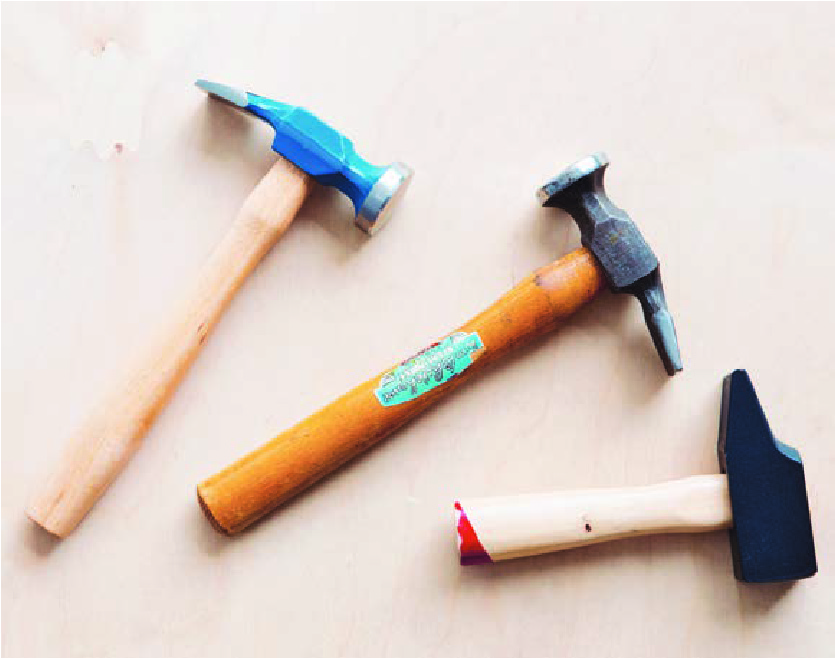 Backing hammer
Not used that often – but good to know about. A backing hammer is traditionally used by leather workers and cobblers. The head of the hammer is wide, and smoothly rounded and heavy. A backing hammer is used for rounding the spine once the book is glued, and for flattening knots and folds.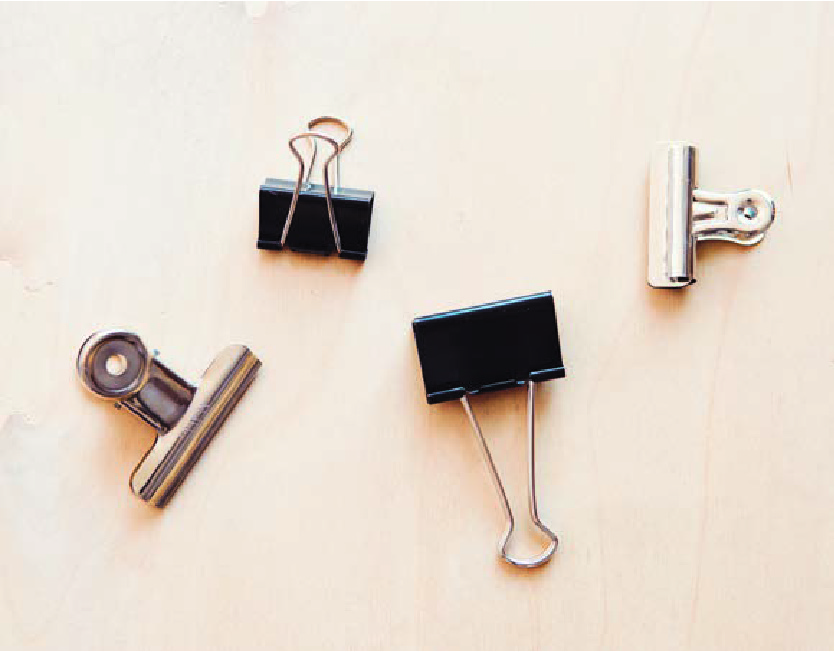 Bulldog or Foldback clip
Not the most high-tech tool, but very useful when holding together stacks of sheets when sewing – especially in stab bindings.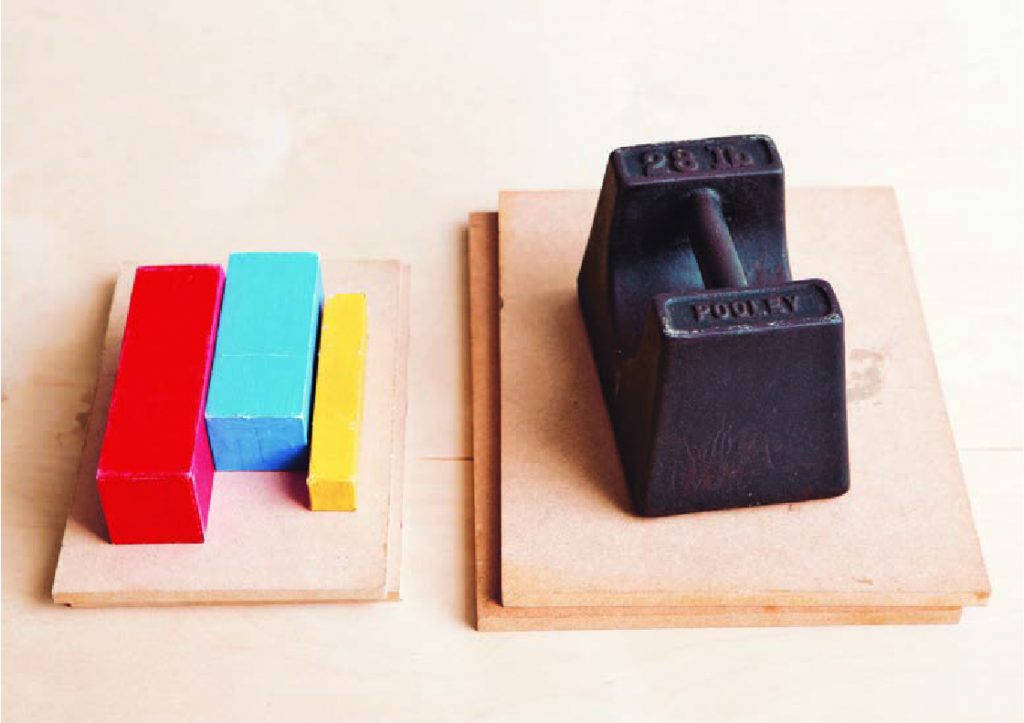 Weights and pressing boards
At the studio we have nipping presses to press sections and books to help keep everything as flat as possible. If you're making at home, in place of a nipping press you will need some weights and a couple of pressing boards made of MDF or wood. The weights can be anything that is relatively small and heavy, such as a house brick, a jar or tin filled with pebbles (I have an old-fashioned iron and antique weights that I picked up in an antiques shop). Make sure that the weights do not leave a mark by wrapping them in clingfilm, paper, or bookcloth before using. The pressing boards should be perfectly flat and smooth, and at least 5cm (2in) bigger on all sides than the books you intend to make.